Service
Website promotion
We work with complex business promotion in the Internet,
and we are ready to become your reliable partner in the promotion of the site
What can we do?
Website promotion with guarantee
Promotion and management of social groups
Viral advertising in the Internet, the hidden PR
Promotion without guarantees on more favorable conditions
Complex advertising on regional websites and billboards
The help in effective work with audience of your site: organization of mailings, analysis of strategy
One-time services in improvement of quality of content, and structure of your site - that contributes to more effective promotion.
Contextual advertising
Another way to promote with guaranteed result is contextual advertising. We are engaged in contextual advertising for many years and we know all the details and mechanisms enable us to manage the advertising budget most effectively.
Social Group Management
We can quickly increase the rates of your group, by attracting in it the bots and real people, according to certain criteria. We provide a full range of SMM.
Operating Procedure
If you ordered a website in our company - So it doesn't require the special preparatory work. At the beginning of cooperation we will analyze the text and structure of the site and then determine who will be engaged in converting these texts to the format most suitable for promotion.
In case you want to promote the created site in other studio - the additional work with its code can be required for adaptation of this site under search engines.
Flexible tariff for long-term partners!
We are glad to have our regular customers, for whom we have always the personal approach and great discounts.
We work for the result!
Opportunity Description
All sites created by us include:
The unique design, created on the basis of your corporate style

Content management system
Statistics

Support for a month after the creation of the project

Page 404
Favicon
Adding a site in Google

Domain Registration .com, and providing hosting for 1 year

Training of your representative to manage the site

General recommendations for the promotion of your company on the Internet
Offered Rates do not include:
Logo creation
Development of slogans, texts
Filling the site
Stages of the work
Getting to know you
In order that we can create a high-quality product - we need to have an understanding of your business, to understand clearly who will use the product and in what way the product is interesting for the customer.
Concept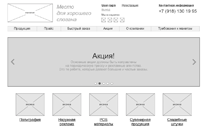 After defining the objectives we concretize them as we define the overall structure of the draft, draw up the terms of reference. Usually at the stage of definition of the concept we make a quotation.
Overall, we make a prototype after the conclusion of the contract.
Website Design
Building on the existing concept we begin to design your site. It is worth noting that the design of the site - it is not a corporate style, and elements such as a logo or branded colors here are not included.
It is also important to take into consideration that we have to adopt all design, and only then proceed to its integration on the site.
Technical realization
Technical realization - one of the longest stages. Along with it may be carried out other steps of the work on content, design, and other.
All our sites have admin, neat code and supporting technologies SEO.
Domain and Hosting
Domain registration and hosting for 1 year is usually included in the price.
.com Domain registration is carried out on your physical or legal person. Domain Registration takes less than 10 minutes, and is not something complicated.
Training
Each site has created a management system that allows your representative to manage the site.
Content Management System is not more difficult than working with Microsoft Word, and you can usually learn it in 1 hour. We are laying here up to 8 hours.
Filling the site
Usually content of the site is filled in by your representative. We do not take on the task of filling the site or writing material for the site - if it is not agreed upon in advance.
Testing and start-up
After completing all the basic steps we are launching a website on the platform and carry out its testing. Your representative can test the site and fill the content.
Once testing is complete, we launch a site - and it is available for all visitors.
Support and promotion
Once the project is launched, we offer services to support and promote. Read the description of these services, you can follow links – «Promoting with guarantee», «Support - cost calculation».
Once testing is complete, we launch a site - and it is available for all visitors.